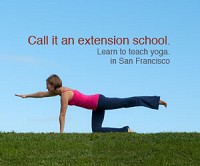 Have been wondering how to take your practice to the next level?
Whether you are planning on changing careers or just want to deepen your understanding and practice of yoga, Yoga Garden's 200-hour Advanced Studies/Teacher Training is the perfect next step. We offer two convenient formats, both uniquely designed for the minimum disruption to your daily life patterns, and both designed to give you a unique approach to the study of yoga.
Join us for this FREE mini class and information session and tea with program instructors. This is a perfect opportunity to get a feel for the teachers of the program, learn more about the program, ask questions, and find out what makes our program so special.
Our next 200-hour program runs from August 9-September 3, 2010, and another program will run from September 10-December 5. Bring your mat, water and a notebook.